HOME
FENCE
<PALLET>
SHED
PROFILE






TO TOP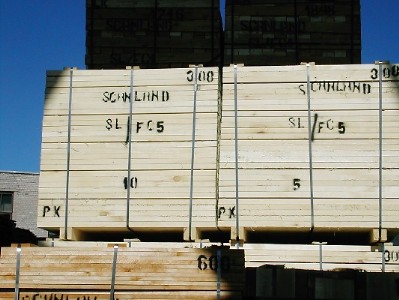 Below we have a list of Pallet stock sizes, Latvian Timber, shipped to both Liverpool and Grimsby Docks.

We can supply on Free On Motor (FOM) basis from Quay, or delivered direct from Quay and Mill.

We can also supply on forward contract basis Portuguese, Latvian and Home Grown Timber cut to your specification. Just fax, phone or e-mail and we will quote price and availability tailored to your needs.

The picture of Pallet wood boards (above right), was taken on quay at Liverpool Docks. That particular Timber was ordered in to Liverpool Docks on forward Contract basis. Once the Timber was discharged by the Shipper it was delivered straight into the Customers yard.


BOARDS
1000 95 15
1000 95 18
1000 95 20
1200 95 15
1200 95 18
1200 95 20

BLOCK

1200 90 70
1200 90 90
1200 95 95

BEARERS

1000 95 35
1200 95 35


Our Pallet timber can be used by Pallet Manufacturers to make new Pallets, or to repair old Pallets for re-sale.